We are excited to announce that Outthink has been recognised as the highest rated security awareness company and security awareness computer-based training (CBT) solution supported by exceptional Gartner Peer Insights® performance.

This recognition, validates the success of our innovative Human Risk Management platform which stands out in the market for its track record of success in helping organizations achieve lasting behavioural change.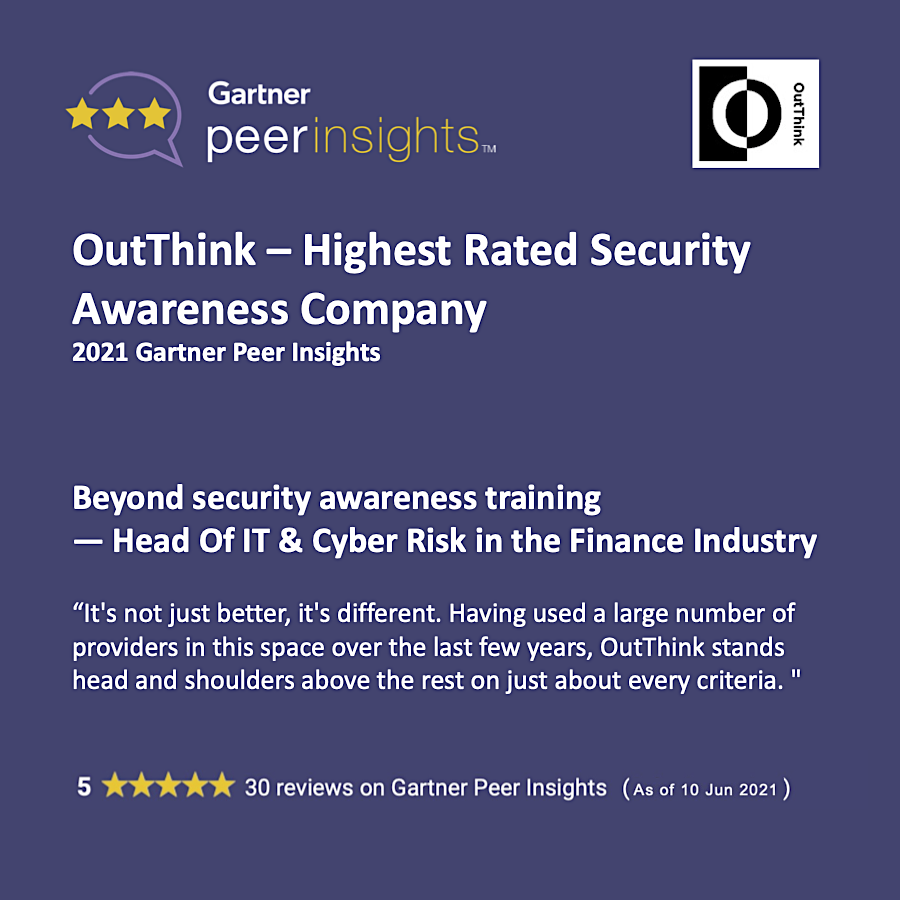 In 2021 Cyber Security Focuses on People
Cyber security risk continues to be a significant global concern. Hence, organisations of every size are realising that when it comes to information and cyber security, threats from the inside are just as significant as external threats. If 2021 budget forecasts are anything to go by, firms are starting to do something about it.
Why Hire a Security Awareness Training Company
If you are wondering: is security awareness training a good idea? According to analysis from the UK government, human error caused 90.7% of security breaches in 2019. In spite of this, the global market for Security Awareness Computer-Based Training was estimated at just €598m in 2020. This equates to less than 1% of overall spend on cybersecurity. In 2021 this imbalance in spending is expected to change significantly. It is expected that companies will be racing to increase budgets for employee training and investment in cyber security awareness programmes.
Security Awareness Training and Education in the Context of Covid
This direction has been further reinforced by changes in working practices as a result of the Covid-19 crisis. Companies are also looking to change the way they engage employees. With research confirming that traditional security awareness training has been ineffective in delivering sustainable change in human behaviour.
What makes OutThink a unique Security Awareness CBT Solution
Outthink is a Security Awareness Company that was purpose-built by security leaders and researchers. It helps businesses and organizations who are looking to engage their people and make them the strongest defence mechanism. This is achieved by going beyond security awareness training and leveraging intelligence in order to reduce the risk of data breaches caused by the employees. Additionally, building a risk aware and sustainable cybersecurity culture.
Highest Rated Security Awareness Training Company
Gartner Peer Insights is a respected enterprise IT product and service review platform which uses verified customer feedback to identify the strongest vendors in the market.

The overall rating is compiled from direct customer experiences of implementing and operating a solution and provides a trusted assessment of how satisfied existing customers are with a vendor's product. To ensure inclusion in the surveys customer reviews must be representative of a broad mix of enterprise clients from different industries, company size and deployment regions.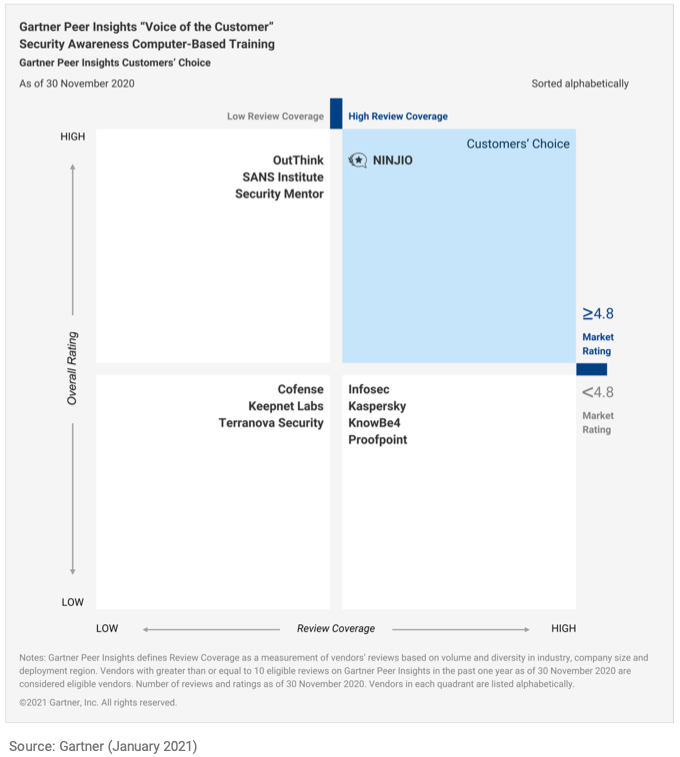 In the Gartner Peer Insights category for Cybersecurity Awareness Training companies, OutThink is the top ranked provider overall, and achieved maximum market ratings 5 out of 5 stars in Product Capabilities, Service and Support, and in Implementation and Deployment.
Beyond Security Awareness: Human Risk Management
Our cloud human risk management platform (SaaS) is successfully used by organisations around the world to enable the security culture transformation and enable their cybersecurity teams to make smarter decisions everyday.
OutThink's unique security solution and innovative awareness training allows organisations to:
Deliver targeted security awareness training
Generate advanced analytics (human risk intelligence) to support a data-based, risk-driven approach.
Identify who are the high risk employees and groups in your organisation
Understand why are these people more likely to cause a security breach
Learn how to support them better
Run easy to deploy (one-click) improvement actions
Recruit cyber security champions
Assess the current cybersecurity culture in your organisation –attitudes, intentions, people's perception, current level of protection and security behaviours.
Produce meaningful reports for the executive management team.
Would you like to learn more about making your organisation secure? Schedule your demo with the team today.